Leicester City's performance against Brighton on Tuesday night was boring, tedious, dull, monotonous, unimaginative, uneventful, spiritless, sterile, unstimulating, stodgy...and probably some other bad words too.
They might have won a point - thanks to the penalty saving heroics of Kasper Schmeichel - but the feeble display from Brendan Rodgers' side continued a worrying pre-lockdown trend.
Failure to beat the Seagulls means that Leicester have now won just three out of 11 Premier League games in 2020, a period that also saw them crash out of the Carabao Cup.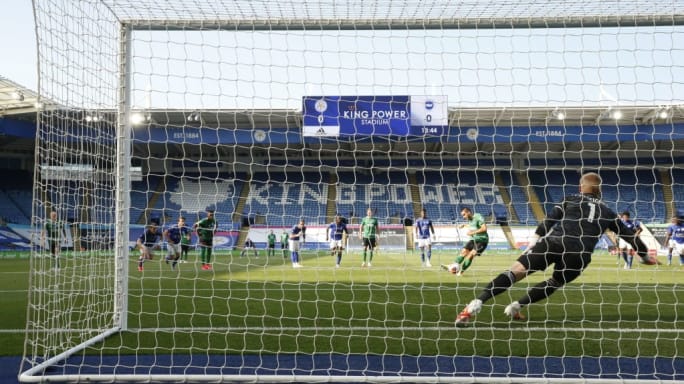 Several of these defeats have come at the hands of the league's lesser lights. Burnley, Southampton and – most worryingly – basement dwellers Norwich City have all put Leicester to the sword this year, while recent draws with relegation threatened pair Watford and Brighton have further dampened the mood at the King Power Stadium.
Quite simply, the Foxes are seriously struggling to break teams down, particularly those who retreat into a low block. As Leicester have become established top four contenders, more and more of their opponents have 'parked the bus' and they haven't yet found a way to unlock these stubborn defences.
For all the bluster about Rodgers turning the Foxes into a more well-rounded team, they are still massively reliant on counter attacking for goals. No side have converted more quick breaks this season, and Leicester's attack looks bereft of ideas when this type of opportunity is not forthcoming.
This was starkly evident when they took on Watford on Saturday - where Jamie Vardy looked more like more like bird watcher than the division's top goalscorer - and things were even worse against Brighton. Vardy had a handful of touches during the entire first half, while his strike partner Kelechi Iheanacho was similarly withdrawn.
The common denominator in these two games was the opposition's deep defensive shape which prevented Rodgers' youthful and pacyy side from counter attacking. This forced Leicester to be more patient and savvy in their build up - and they simply do not have the players for it.
Harvey Barnes, Marc Albrighton and Demarai Gray - who have all been deployed out wide in recent weeks - are devastating in transition, but lack the guile and inventiveness to break down an organised back four.
Rodgers' would surely have been watching Manchester City and Riyad Mahrez decimate Burnley on Monday night with envy. Leicester have still not managed to find a player capable of breaking down stubborn of defensive resistance like the Algerian. Understandable really. There are only a handful of players like Mahrez on the planet.
Leicester are also clearly missing the offensive thrust usually provided by the injured Ricardo Pereira at right-back. James Justin may have looked superb defensively, penalty error aside, but he has not yet shown much in the way of bombing forward. Pereira is leading the Foxes in dribbles this season and without his progression, play often stagnates in midfield. James Maddison needs to step up in his absence, though in defence of the England international, both Watford and Brighton smothered his influence well with a string of tactical fouls.
So should the Foxes be fearful of missing out on Europe then? Yes and no.
Of course, their lack of attacking mojo is a cause for concern but they still enjoy a fairly comfortable, nine point lead over the chasing pack. The resurgent form of Manchester United, Wolves and to a lesser extent Tottenham will be worrying, but it would still take a cock-up of monumental proportions for Rodgers' side to surrender their place in Europe now. Not that the Northern Irishman doesn't have that in his locker, as Liverpool fans can attest.
More positively, their supposedly difficult run-in, which features meetings with Everton, Arsenal (maybe not that challenging a game at the moment), Spurs and United may in fact suit Leicester. Playing against sides who are naturally going to have more of the ball should afford Leicester far more counter-attacking opportunities than they have been afforded since the Premier League restart.
Going forward, the problem of breaking down teams that sit deep needs attention to ensure that Leicester's success this season is not a flash in the pan. However, Leicester fans should also be patient with Rodgers' young squad. Their achievements this season have been incredible and he deserves time to work out the kinks in the system.
---
Source :
90min