Two minutes. That's all the time it took for Leicester City's stuttering season to stop stuttering and burst into flames.
With 65 minutes on the clock and Leicester 1-0 up in a crucial encounter against relegation threatened Bournemouth, the vastly experienced Kasper Schmeichel blasted a goal kick straight into Wilfred Ndidi's boney arse.
Why you ask? Well, that's a question that I've been asking myself for the past few days. I'm still no closer to an answer. Perhaps the Dane thought it would be funny. It wasn't funny mate, I promise you that. Schmeichel's actions set off a chain of increasingly excruciating events which all involved footballers' arses to various extents.
First, Junior Stanislas converted the penalty that Ndidi gave away immediately after his arse-shaped conundrum.
Next, Caglar Soyuncu ruled himself out for season, unleashing his frustration after the Cherries took a 2-1 lead by kicking Callum Wilson very hard in the arse and getting sent off for his trouble.
Third, Jonny Evans deflected the ball into his own net to put the game beyond all doubt. Surprisingly though, the ball did not cannon in off his arse.
Lastly, Ryan Bennett fell on his arse trying to prevent Solanke adding his second Premier League goal EVER with a few minutes left to play.
This second half, arse-related nonsense was made even harder to take by the the fact that Leicester had dominated the opening 45 minutes, restricting the Cherries to just one shot on target.
The visitors should have been ahead by more than one at the break with Ayoze Perez, Kelechi Iheanacho and scorer Jamie Vardy all spurning chances to increase their lead.
Brendan Rodgers has received the lion share of the criticism following this disastrous result - and quite right too. The Northern Irishman's decision to remove Iheanacho at half time for an extra midfielder was bizarre. It left the middle of the park congested, stunting the Foxes' press and their chance creation.
Rodgers' refusal to admit his error was similarly strange. Instead, he doubled down, criticising Iheanacho despite his good performance. The Nigerian has been the side's best attacking performer of late and assisted Vardy's goal against Bournemouth.
These tactical and media missteps have become increasingly common, feeding annoyingly well into the narrative that Rodgers is a 'bottler'. Although the term is easily one of the most overused pejorative terms in the footballing vernacular, there might be some truth in it on this occasion.
The second half meltdown that Leicester experienced between 8pm and 8:49pm on the Dorset coast was the archetypal bottle job and evidence that contrary to what they admit publicly, the players are feeling the pressure of a season mixing it with the big boys.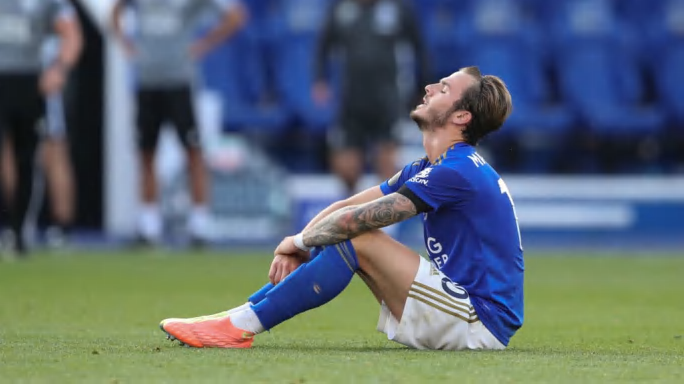 However, in spite of a resurgent Manchester United and Wolves, in spite of Manchester City's European ban being lifted and in spite of an injury list that is enough to make even the most optimistic fan's stomach turn, the Champions League dream is somehow not yet dead. It even remains in the Foxes' hands.
Win the next three games and Leicester City Football Club will be globe(Europe)trotting across Europe next season.
First up is fellow upstarts Sheffield United on Thursday night. It's the biggest game of their season to date and contests against Tottenham and Manchester United are certain to be equally important if they managed to fluke a win over the impressive Blades.
Since the Foxes' last foray in Europe four years ago, a lot has changed at the King Power Stadium. A young, exciting group of charges have emerged with members of the Premier League winning squad being moved on. It is ironic then, that in order to get across the line they will be relying on the same core group of players that got them into the Champions League last time out.
The four poster boys of Leicester new breed, Ricardo Pereira, James Madison, Ben Chilwell and Soyuncu are all sidelined, opening the door for sparsely used club stalwarts Marc Albrighton, Christian Fuchs and Wes Morgan.
And then there's Jamie Vardy - pretty much the only Foxes player who looks like scoring - and Kasper Schmeichel, who apparently gave a rousing post-match speech after his mishap against the Cherries. This is exactly the sort of leadership needed at this critical juncture.
If Leicester are to somehow secure their place in next season's Champions League they will have to rely on these increasingly marginalised but senior figures to get them over the line. Who knows, maybe they'll do it. They've overcome far greater odds than this during their Foxes' career.
---
Source :
90min